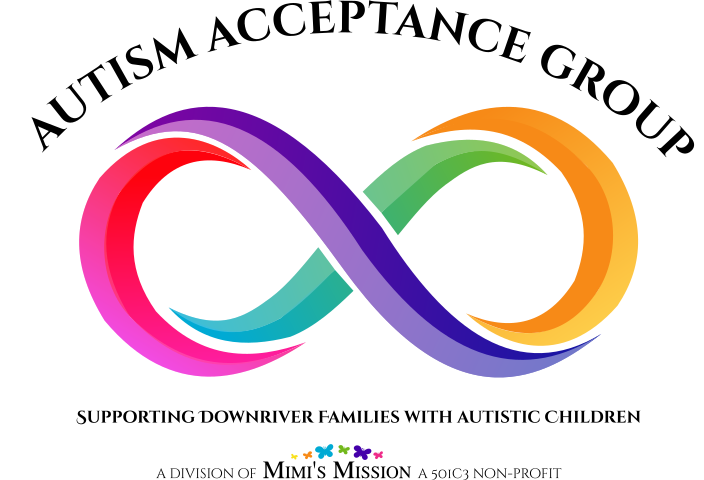 AUTISM ACCEPTANCE GROUP
The Autism Acceptance Group (formerly Puzzle Parent Group) Mission Statement: To provide an opportunity for Downriver spectrum families to socialize and support each other
Mimi's Mission offers the Autism Acceptance Group, a program developed only for Downriver* families with children on the Autism Spectrum. The group meets on the first Monday of each month for dinner. At meetings, families are offered the unique opportunity to socialize other Downriver families with children on the Spectrum. These meetings offer the children on the Spectrum a unique opportunity also–a chance to participate and socialize with other Downriver children on the Autism Spectrum. Generous community members volunteer to offer free childcare for those in attendance, including siblings. The adult family members have some time to build relationships with other families who often share some of the same challenges in raising a child with Autism.  The parents and siblings are finding comfort in being with other people who actually understand them and live very similar lives. The children on the spectrum also find comfort in being with friends who are similar to them. The cost to attend a meetings is $5 per person. Meetings include an art project, one hour of childcare, dinner (often pizza), bottled water, and dessert.
On the 3rd Monday of each month, active members of the Autism Acceptance Group attend an outing (active members are any parents, grandparents, children in the program, siblings and extended family who regularly attend meetings). The outings are designed to allow families the chance to visit area venues privately, when they are closed to the general public. The goal is to get children on the spectrum out into the community and doing activities they may otherwise avoid for any number of reasons (noise, crowds, etc.). These outings vary and have included trips to apple orchards, splash pads, swimming facilities, Rev'd Up and more. Generous donations from area businesses and community members to Mimi's Mission often cover the cost of these outings and there is usually no fee for those attending. The only requirement is that the family regularly attends meetings and participates.
In addition to the group meetings and outings, each September Mimi's Mission presents the Magical Mile Walk and Funfest for Autism Awareness. This is the largest annual fundraiser for the Autism Acceptance Group and grows each year! In 2021, we hope the event will still include the 1 mile family fun walk, a 5K, and a festival atmosphere with games and vendors.
Autism Acceptance Group (formerly Puzzle Parents):
1st  Monday of each month
6pm-8pm
Proof of Downriver residency required
 St. Stephen's Church:  2803 1st St, Wyandotte, MI 48192
Outings are on the 3rd Monday of each month and are announced at the meetings. Outings are often free of charge and are open to all Autism Acceptance Group members, their children who participate in the program, siblings and extended family who are active group members who REGULARLY attend meetings.
AUTISM ACCEPTANCE GROUP RESOURCES
Autism Acceptance Group on Facebook
Our group (formerly Puzzle Parents) is open to Downriver families with children on the Autism Spectrum. If you would like to join our Facebook group, please click the button below.
$5 Fee for Autism Acceptance Group Meeting
Autism Acceptance Group meetings are $5 per person in attendance. The attendance fee includes dinner (please note the fee is the same regardless of whether or not the attendee eats dinner).
Meeting Coordinator Form
If you or your business would like to volunteer to speak or present at a Autism Acceptance Group meeting please click the button below to fill out an application.
New Autism Acceptance Group Member Form
If you are a Downriver resident and would like to join our Autism Acceptance Group, please fill out the new member information form.
Autism Acceptance Group Volunteer Application
We need and appreciate volunteers at every Autism Acceptance Group meeting and at community events. If you would like to help, please fill out our form.